"FHA loans" are mortgages insured by the Federal Housing Administration (FHA), which can be issued by any FHA-approved lender in the United States.
Congress established the FHA in 1934 to help lower income borrowers obtain a mortgage that otherwise would have trouble qualifying. In 1965, the FHA became part of the Department of Housing and Urban Development's (HUD) Office of Housing.
Before the FHA was established, it was common for homeowners to put down 50% of the value of the property as a down payment on short-term balloon mortgages, which clearly wasn't practical going forward.
Unlike conventional loans, FHA loans are government-backed, which protects lenders against defaults, making it possible to for them to offer prospective borrowers more competitive interest rates on traditionally more risky loans.
Qualifying for an FHA Loan
Because FHA loans are insured by the government, they have easier credit qualifying guidelines than most lenders, as well as relatively low closing costs and down payment requirements.
What is the minimum down payment on an FHA loan?
With an FHA loan, your down payment can be as low as 3.5% of the purchase price, assuming you have at least a 580 credit score.  And closing costs can be bundled with the loan. In other words, you don't need much cash to close.
In fact, gift funds can be used for 100% of the borrower's closing costs and down payment, making them a truly affordable option for an individual with little cash on hand.
You can get an FHA loan with zero down?
Technically no, you still need to provide 3.5% down.  But if the 3.5% is gifted by an acceptable donor, it's effectively zero down for the borrower.
For a rate and term refinance, you can get a loan-to-value (LTV) as high as 97.75% of the appraised value (plus the upfront mortgage insurance premium.)
However, it's important to note that while the FHA has relatively lax guidelines for its loans, individual banks and lenders will always set their own FHA underwriting guidelines on top of those, known as lender overlays.
And keep in mind that the FHA doesn't actually lend money to borrowers, nor does the agency set the interest rates on FHA loans, it simply insures the loans.
What is the max loan amount for an FHA loan?
The max loan amount (national loan limit ceiling) for FHA loans for one-unit properties is $625,500, with the exception of some Hawaiian counties that go as high as $721,050.  Additionally, the loan limits are higher for 2-4 unit properties nationwide.
However, some counties, even large metros, have loan limits at the national floor, which is $271,050.  For example, Phoenix, AZ only allows FHA loans up to $271,050.  And it's not much higher in Las Vegas ($287,500) either.
There are other counties that have a max loan amount in between the floor and ceiling, such as San Diego, CA, where the max is set at $546,250.  In other words, you really gotta check your county before assuming your loan amount will work with the FHA.
What are the 2017 FHA loan limits?
In 2017, the max loan amount will increase to $636,150 from $625,500, while the floor will rise to $275,665 from $271,050. These changes will affect 2,948 counties nationwide in a positive way (higher loan limits!).
For example, Los Angeles County will have a max FHA loan limit of $636,150. And Phoenix, AZ is finally getting a bump above the floor to $279,450.
Do you need reserves for an FHA loan?
No, reserves are not required on FHA loans if it's a 1-2 unit property.  For 3-4 unit properties, you'll need three months of PITI payments.  And the reserves cannot be gifted nor can they be proceeds from the transaction.
Types of FHA Loans
The FHA has a variety of loan programs geared toward first-time homebuyers, along with reverse mortgages for senior citizens, and has insured more than 34 million mortgages since inception.
FHA loans are available for both purchases and refinances, including cash out refinances. The max LTV for a cash-out FHA loan is 95%, assuming the loan amount is $417,000 or smaller, though most lenders tend to cap out at 85% LTV.
For those with existing FHA loans looking to refinance to another FHA loan, the streamline refinance program is a quick and easy option that provides a ton of flexibility, even for those who lack home equity.
Additionally, FHA loans can be either adjustable-rate mortgages or fixed-rate mortgages. If the interest rate is adjustable, it will be based on the 1-Year Constant Maturity Treasury Index, which is the most widely used mortgage index.
Can I get a second mortgage behind an FHA loan?
It's possible, though most FHA loans have very high LTV ratios, and most home equity loans limit the CLTV (combined LTV) to around 85%-95%, so you'll need some equity before taking out a second mortgage such as a HELOC.
A second mortgage may also come into play when getting down payment assistance during a home purchase, whereby the loan is subordinate to the FHA loan.
Can FHA loans be used on 2-4 unit properties?
FHA loans can be used to finance 1-4 unit residential properties, including condominiums, manufactured homes and mobile homes (provided it is on a permanent foundation), along with multifamily properties.
However, FHA loans are generally only reserved for borrowers who intend to occupy their properties.
Can I have more than one FHA loan?
Tip: You may only hold one FHA loan at any given time. The FHA limits the number of FHA loans borrowers may possess to reduce the chances of default.
For example, they don't want one individual to purchase multiple investment properties all financed by the FHA, as it would put more risk on the agency. But there are certain exceptions that allow borrowers to hold more than one FHA loan.
Can I get an FHA loan on a second home?
A co-borrower with an FHA loan may be able to get another FHA loan if going through a divorce, and a borrower who outgrows their existing home may be able to get another FHA loan on a larger home, and maintain the old FHA loan on what would become their investment property.
It's also possible to get a second FHA loan if relocating for work, whereby you purchase a second property as a primary residence and keep the old property as well.
But you'll need to provide supporting evidence in order for it to work.
Do FHA Loans Require Mortgage Insurance?
One downside to FHA loans is that the borrower must pay mortgage insurance both upfront and annually, regardless of the LTV ratio.
This differs from privately insured mortgages, which only require mortgage insurance if the LTV is greater than 80%.
The upfront mortgage insurance premium:
FHA loans have a hefty upfront mortgage insurance premium equal to 1.75% of the loan amount. This is typically bundled into the loan amount and paid off throughout the life of the loan.
For example, if you were to purchase a $100,000 property and put down the minimum 3.5%, you'd be subject to an upfront MIP of $1,688.75, which would be added to the $96,500 base loan amount, creating a total loan amount of $98,188.75.
However, your LTV would still be considered 96.5%, despite the addition of the upfront MIP.
The annual mortgage insurance premium: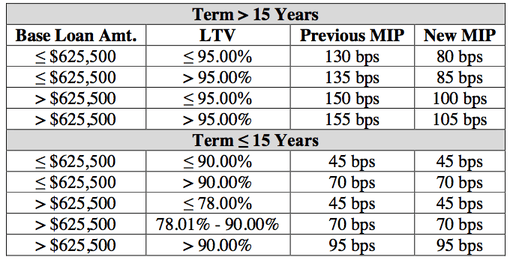 But wait, there's more!  You must also pay an annual mortgage insurance premium (paid monthly) if you take out an FHA loan, which varies based on the attributes of the loan.
Beginning January 26th, 2015, if the loan-to-value is less than or equal to 95%, you will have to pay an annual mortgage insurance premium of 0.80% of the loan amount.  For FHA loans with an LTV above 95%, the annual insurance premium is 0.85%. And it's even higher if the loan amount exceeds $625,500.
For loan terms of 15 years or shorter, the annual mortgage insurance premiums are significantly lower (see charts above).
Additionally, how long you pay the annual MIP depends on the LTV of the loan at the time of origination.
The FHA has increased mortgage insurance premiums several times as a result of higher default rates, and borrowers should not be surprised if premiums rise even more in the near future.
Do FHA Loans Have Prepayment Penalties?
The good news is FHA do NOT have prepayment penalties, meaning you can pay off your FHA loan whenever you feel like it without being assessed a penalty.
Prepayment penalties aren't very common these days, though they were quite prevalent on conventional loans during the housing boom in the early 2000s.
There is a caveat…
However, there is one thing you should watch out for. Though FHA loans don't allow for prepayment penalties, you may be required to pay the full month's interest in which you refinance or pay off your loan because the FHA requires full-month interest payoffs.
In other words, if you refinance your FHA loan on January 10th, you might have to pay interest for the remaining 21 days, even if the loan is technically "paid off."
It's kind of a backdoor prepay penalty, and one that will probably be revised (removed) soon for future FHA borrowers.  If you're a current FHA loan holder, you may want to sell or refinance at the end of the month to avoid this extra interest expense.
Are FHA Loans Assumable?
Another benefit to FHA loans is that they are assumable, meaning someone with an FHA loan can pass it on to you if the interest rate is favorable relative to current market rates.
For example, if someone took out an FHA loan at a rate of 3.5% and rates have since risen to 5%, it could be a great move to assume the seller's loan.
It's also another incentive the seller can throw into the mix to make their home more attractive to prospective buyers looking for a deal.
Just note that the individual assuming the FHA loan must qualify under the same underwriting guidelines that apply to new loans.
FHA Credit Score Requirements
Can I get an FHA loan with bad credit?
Borrowers with credit scores of 580 and above are eligible for maximum financing, or just 3.5% down. This is the low-down payment loan program the FHA is famous for.
And a 580 credit score is what I would define as "bad," so the answer to that question is yes.
What if my credit score is below 580?
If your credit score is between 500 and 579, your FHA loan is limited to 90% loan-to-value (LTV), meaning you must put down at least 10%.
If your credit score is below 500, you are not eligible for an FHA loan.
I can't find a lender willing to give me an FHA loan with a 500 credit score.
As noted earlier, these are just FHA guidelines – individual banks and mortgage lenders will likely have higher minimum credit score requirements, so don't be surprised if your 580 FICO score isn't sufficient (at least one lender goes as low as 550).
Since the mortgage crisis struck, FHA loans have become increasingly popular, essentially replacing subprime lending, largely because of their relatively easy underwriting requirements and government guarantee.
But make sure you compare FHA loans with conventional loans as well. There will be cases when the benefit of one outweighs the other.
FHA loans are not guaranteed to be a better deal than other mortgages, so take the time to shop around. And watch out for unscrupulous FHA-qualified lenders who may attempt to misinform you.
Read more: FHA vs. conventional loans