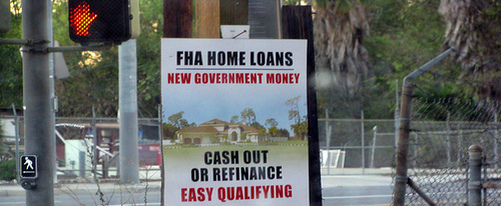 FHA commissioner David Stevens testified to Congress Thursday, arguing that a blanket minimum down payment increase for FHA loans would "adversely impact the housing market recovery."
He noted in his testimony that requiring a five percent minimum down payment on FHA loans for all borrowers (up from the current 3.5%) would reduce endorsements by a staggering 40 percent.
That translates to 300,000 fewer first-time homebuyers, while only contributing $500 million in additional budget receipts to bolster their depleted capital reserve ratio.
Stevens added that down payment alone is not the only factor that determines loan performance, pointing to credit score as a major indicator as well.
He highlighted an example where loans with a loan-to-value ratio above 95 percent and a Fico score above 580 perform better than loans with a loan-to-value below 95 percent and a Fico score below 580.
"In particular, we have proposed to permit loans to borrowers with FICO scores above 580 with a minimum 3.5% downpayment and loans to borrowers with FICO scores between 500 to 579 with a minimum 10% downpayment," he said.
"It is also worth noting that these downpayment guidelines are minimums and many borrowers do in fact have significantly lower LTVs – in the fourth quarter of FY 2009, more than 21% of endorsed loans had a LTV lower than 90%."
In early October of last year, New Jersey Republican Scott Garrett introduced a bill requiring all FHA borrowers to come in with at least five percent down, though such a proposal seems unlikely.
If all the proposed changes are implemented, including increased mortgage insurance premiums, the FHA should reap $5.8 billion in offsetting receipts.
Let's look at pictures now!
The first graphic illustrates the effects of credit score and LTV on loan quality: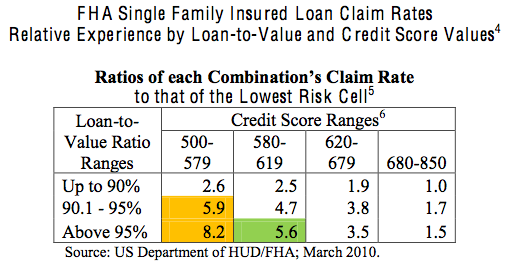 The second details what percent of borrowers would be shut out as a result of the FHA's proposed Fico/min down payment changes slated for spring and summer of this year:

Due to the improved quality of recent FHA loans, only 1.5 percent of loans endorsed in FY2009 would be excluded under the proposed guidelines.