One of the trickiest aspects of homeownership is unloading an existing property while acquiring a replacement.
Aside from being stressful, it can also be difficult it not impossible thanks to financing constraints and unwanted contingencies, which a home seller likely won't accept in a hot market.
Unfortunately for those in this predicament, real estate is red hot at the moment, thanks to a lack of inventory and record low mortgage rates.
This means contingent offers, where you must sell before you commit to buy, aren't likely to be accepted. And worse yet, even an offer that requires a mortgage could be denied in favor of an all-cash offer.
Enter "Knock Home Swap," which as the name implies, looks to solve this common conundrum by giving the concurrent home buyer/seller some helpful tools to compete.
How Knock Home Swap Works

First you get pre-approved for a mortgage with Knock Lending LLC
This allows you to make offers on a replacement home with down payment assistance included
Once you find the right home you can move in and make just the new mortgage payment
In the meantime, your old home will be prepped, listed, and sold while they cover monthly mortgage payments
We've heard of home swapping before, with it being a common feature with popular iBuyers.
For example, Opendoor, HomeLight, Reali, and Offerpad all offer trade-in programs where you can sell them your home and buy one from them at the same time.
But unlike an iBuyer, Knock doesn't purchase your old home from you—instead, it's sold on the open market via a licensed real estate agent. Ideally for a much higher price.
To close the buy/sell gap, they integrate a "competitive mortgage," along with an interest-free bridge loan (similar to the one Compass offers) that covers the down payment on the new home, along with mortgage payments on the old home.
You can also claim up to $25,000 for "home prep and repairs" on the old property so it sells quickly and for top dollar, similar to the service provided by Curbio.
So it's almost like Knock combined several different fintech offerings into one to make the home selling, buying, renovating, and mortgage financing process one smooth transaction.
In exchange for all these services, Knock charges a 1.25% convenience fee when you close on your new home, which can be rolled into the mortgage if you wish.
Once your old home sells, you pay back Knock for any monies advanced, such as down payment assistance, mortgage payments, and home preparation costs.
Speaking of, they'll advance up to six mortgage payments on your old home, $25,000 in home renovation costs, and up to 5% down payment on the new purchase.
Which Homes Qualify for Knock Home Swap?
Property must be located in their service area (new markets launching soon)
Must be single-family residence, condo, or townhome that is eligible for traditional home loan financing
Title must be clear and held by seller
Must be owner-occupied or vacant (no tenants)
Knock must value home at $150k or higher (or combined value of old/new homes must be at least $350,000-$400,000)
At the moment, Knock Home Swap is live in a limited number of cities, mostly located in Florida and nearby states.
Those cities include Atlanta, Austin, Charlotte, Dallas-Fort Worth, Fort Lauderdale, Houston, Jacksonville, Orlando, Miami, Phoenix, Raleigh-Durham, San Antonio, Tampa, and West Palm Beach.
Several more markets are expected to launch this year and in 2021, so stay tuned.
It should be noted that both homes must be in those markets in order to qualify. Additionally, the property cannot be in an age-restricted community, nor can it be a distressed sale or bank-owned.
They also won't go for homes with a solar lease, unpermitted additions, or significant foundation or water damage.
It is available exclusively through local broker and real estate agent partners who have been trained as Knock Certified Agents.
Why Use Knock Home Swap?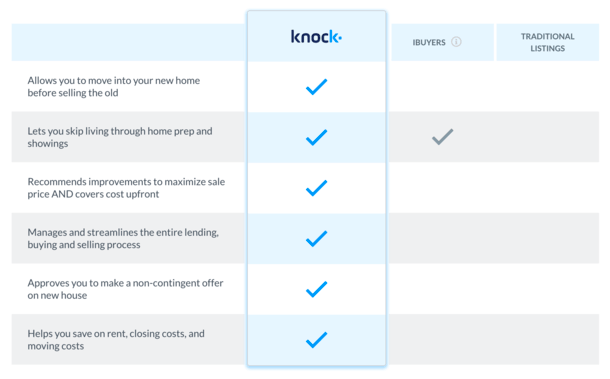 You can buy a new home before selling your old home
You can get down payment assistance (up to 5%) for new home purchase
They provide the home loan and bridge financing that pays old mortgage before you sell
Can get up to $25,000 in home renovation costs fronted to sell your home for top dollar
Fee is only 1.25% plus standard real estate commissions and closing costs
There are several reasons why an existing homeowner might consider using a service like Knock Home Swap.
For one, it can be difficult to buy and sell a home at the same time because contingencies are often frowned upon.
So again, if the market is hot, or a particular property you have your eye on is popular with other buyers, the seller likely won't accept a contingent offer.
Additionally, there can be complications when trying to juggle two mortgages at once, especially if affordability is already stretched.
There's also the sheer timing of things when selling one property and acquiring another – will you need a leaseback before you move into the new home?
With Knock Home Swap, you can get the ball rolling on your new home and concurrently renovate and prep your old home to list, without worrying about where you're going to live.
And you aren't selling your home at a basement price to an iBuyer – it's sold on the open market after suggested repairs are made, meaning it should go for a decent price.
Additionally, there's more certainty overall if one company has approved your mortgage and is covering the old one while your former property sells.
In terms of gotchas, they do charge a fee of 1.25% for the service, which while not free, seems reasonable. I believe it's based on the new home sales price.
Of course, they are also originating your mortgage and presumably taking full real estate agent commission on both the new home and the old home.
This could mean a standard fee of 2.5% to 3%, which might be more expensive than what other discount real estate brokerages charge.
Still, you seem to get a lot of good value out of it, and if the repairs they suggest result in a higher sales price for your home, it could cover the fees and then some.
Knock Lock and Shop
In early October 2022, the company unveiled a new solution known as "Lock and Shop," which is basically a mortgage pre-lock option.
It allows prospective home buyers to lock an interest rate while shopping for a property to buy.
If rates go up during that time, they will enjoy their lower, locked interest rate regardless.
If rates happen to go down, they might receive the option of a float-down to capture some of that improvement.
The rate lock periods are being offered in 60, 75, 90, and 120-day increments, with longer lock periods resulting in higher interest rates. And vice versa.
The Lock and Shop feature can be used in conjunction with Knock Home Swap and Knock GO (Guaranteed Offer), which allows first-time home buyers to compete with all-cash buyers.
Knock also recently launched an interest-free equity advance loan that can be used to buy down your mortgage rate and/or increase your down payment to lower monthly mortgage payments.
It can also be used to cover the cost of a rate lock extension via the Lock and Shop program.