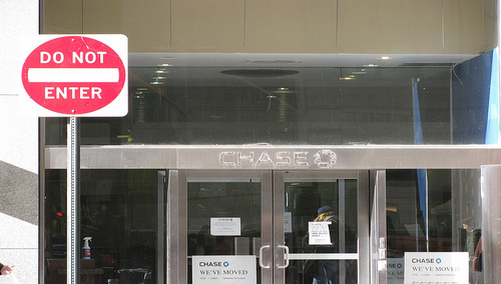 Chase reportedly shuttered its flagging wholesale home loan division today, according to the Mortgage Lender Implode-o-Meter.
It is believed that 190 Account Executives were still employed in the lending unit nationwide, though it's unclear how many will be affected by today's news.
Chase is expected to hang on to its correspondent lending business, though it plans to shed about 25 percent of staff, or roughly 45 employees.
Deadlines to submit and lock are January 16, and submitted loans must fund no later than March 20.
"Our new strategic direction is supported through the recent merger with Washington Mutual, which increased our bank branch inventory nationwide and enables us to serve nearly 70 percent of the American population," the company said in a statement on its website.
"As a result of our strategic decision, we are closing our Wholesale business."
Chase becomes the latest, and perhaps final big name, to exit the troubled wholesale lending space, a highly scrutinized segment of the mortgage market.
After winding down its home equity loan and subprime wholesale divisions back in May, the company shifted focus to agency lending as most others did.
But it wasn't long before the company, like many others, realized it wasn't a profitable space, especially with retail lending shaky at best.
Wholesale mortgage lending has been widely criticized for being poorly regulated and riddled with unscrupulous mortgage brokers and loan officers.
Reports have also hinted that borrowers who worked with mortgage brokers were charged more than their retail counterparts, while default rates have also been higher.
The shift in the industry is leading many to become mortgage bankers so they can take advantage of correspondent lending programs as a viable alternative.