When it comes to getting a home loan, you probably don't want to monkey around. But you may want to check out Loan Monkey.
This playful mortgage lender is only licensed in two states at the moment, but it's two of the biggest (literally), California and Texas.
Aside from having a slick-looking website, they also employ the latest technology that makes it fast and easy to apply for a home loan.
Additionally, they let you generate free mortgage quotes without having to provide any contact info, which is definitely a plus if you're actively shopping around.
They refer to themselves as the first "purpose-driven digital mortgage company" because customers can choose to have Loan Monkey make a $250 donation on their behalf at closing.
Let's learn more about this innovative mortgage startup.
Loan Monkey Fast Facts
Direct-to-consumer mortgage lender
Founded in 2019 by current CEO Sean Marsh and Christopher Russow
Headquartered in San Diego, CA
Offer home purchase loans and refinance loans
Licensed to do business in California and Texas only
Expected to roll out to additional states in the near future
Loan Monkey is a direct-to-consumer mortgage lender, meaning you'll be working remotely to obtain your home loan, as opposed to visiting a branch location.
This seems to be the preferred method these days, even without a pandemic, but those who'd rather visit a branch and/or work face-to-face may want to go elsewhere.
They are a pretty young company, perhaps better described as a startup, having been launched in 2019 by current CEO Sean Marsh and Christopher Russow.
Prior to this venture, Marsh was the CEO of Synergy One Lending, which was later acquired by Mutual of Omaha, so there's a decent mortgage pedigree here.
Currently, Loan Monkey is licensed in just two states – they only serve homeowners and home buyers in California and Texas. But they do plan a nationwide expansion at some point.
The good news is they seem to make it really easy to get a mortgage, and even kind of fun, if their website is any indication.
How to Apply for a Mortgage with Loan Monkey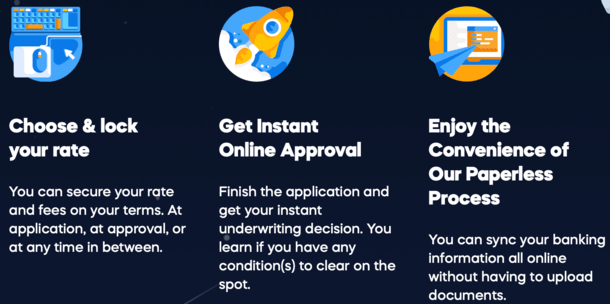 You can complete a loan application online or via smartphone on your own
They say it take only 10-15 minutes to complete the application
Their loan professors are standing by to help if you need assistance along the way
It's a digital mortgage loan experience that should make the process easier than most
I think where Loan Monkey excels is in their loan application process, which they say is simplified for primates.
What they mean by that is you can apply in just minutes online or via smartphone without any assistance. But if you do need help, they've got so-called "loan professors" at the ready.
While you are able to scan and upload documents, they go a step further and allow you to sync your bank account information for a faster and more reliable decision. Speaking of, you can get that answer in just minutes.
You can also choose to lock your mortgage rate at any time, whether at application, at approval, or any time thereafter.
You get the ability to price your loan 24/7, and their instant loan estimate makes it easy to compare both their fees and third-party closing costs.
Per the NMLS, they've got about 20 loan officers on board, along with loan processors, who will be able to assist you with your application.
Once you generate your instant approval online, you'll get a list of conditions if applicable, which may be necessary to make it to the finish line.
You'll also get real-time loan status updates, and when it's time to sign closing documents, you might be able to conduct the closing electronically with a remote notary.
Everything is managed via an online loan portal, but you can also call them up if you prefer to speak with someone first.
All in all, Loan Monkey appears to employ the latest technology to make getting a mortgage painless and fast.
My only gripe is they don't appear to have an email address or contact form if you have questions and don't feel like calling them.
Loan Types Offered by Loan Monkey
Conventional loans backed by Fannie Mae and Freddie Mac
Jumbo home loans
FHA loans
VA loans
Fixed-rate mortgages in a variety of loan terms (15-, 20-, 30-year fixed)
Adjustable-rate mortgages: 5/1 ARM, 7/1 ARM, etc.
Loan Monkey Mortgage Rates
If you want to see mortgage rates, Loan Monkey is the company for you. They show you lots of rates, including daily rates right on their homepage.
You can also take things a step further and generate free mortgage quotes on your own by filling out a short form.
They say you can compare hundreds of loans at once, along with a detailed view of both lender and third-party closing costs.
Once you see a rate/fee combo you like, you can simply hit "Apply Now" and you'll be off to the races.
Alternatively, you can call them up to get current rates and/or ask questions before you proceed.
From what I saw, their mortgage rates were in line with what some of the cheapest online mortgage lenders are offering at the moment.
But always take the time to gather several mortgage quotes from different mortgage companies as they can always vary and you won't want to miss out on something better.
In terms of lender fees, they appear to charge a $999 underwriting fee and a $650 home appraisal fee.
Loan Monkey Reviews
Per the company, LoanMonkey is one of the "best reviewed and most trusted" mortgage companies you'll find on Bankrate.
At the moment, they have a 4.8-star rating out of 5 from 36 customer reviews. While not a large number of reviews, they are very favorable.
Additionally, they are a Better Business Bureau accredited company and have been since 2019. They currently have an 'A+' rating.
I'd like to see more reviews, but I understand that takes time and they're still a very young mortgage company.
In summary, while their website could benefit from some additional information and features, it's very well done and it appears the loan process is also very easy to complete with them.
I also appreciate their transparency when it comes to rates and lender fees, and the ability to lock your rate at any time to wish.
Assuming their rates/fees are competitive with other lenders, they could be a good choice for a mortgage refinance or possibly even a home purchase.
Loan Monkey Pros and Cons
The Good
Can see mortgage rates without speaking to anyone or providing contact info
You can generate free mortgage quotes and compare lots of loan options all at once
Ability to apply for a mortgage online on your own in minutes
They offer a digital mortgage experience (mostly paperless)
Offer most major loan programs
Excellent customer reviews (though not very many of them)
A+ BBB rating, accredited company
$250 donation to the cause of your choosing at closing
The Not
Only licensed in CA and TX
Don't offer USDA home loans
No email address or contact form provided
(photo: Joe Lewis)