You'd think mortgage applications would be humming given the recent sizable declines in mortgage rates. After all, rates haven't been this low since last November.
But the recent upticks in applications have been pretty lackluster. The Mortgage Bankers Association noted this morning that refinance apps were up four percent during the week ending May 16th from the previous week, which is a decent gain.
However, they're still lagging last year's pace by a staggering 65%, according to MBA's Chief Economist Mike Fratantoni. And purchase money mortgage apps aren't holding up much better.
Purchase apps were actually down from a week earlier and continue to lag year-ago numbers by more than 10%.
And even if there are strong week-over-week gains, levels are so depleted that high percentage gains will look a lot better than they actually are.
Rates Have Dropped About Half a Percent in Two Months
Meanwhile, the 30-year fixed mortgage is pricing around 4.125% to 4.25% for good borrowers, not too far above record lows and much better than the 4.625% average seen about two months ago.
So why the heck isn't volume improving more significantly? Well, rates have simply fallen back to 2013 levels. In other words, the people that wanted to refinance probably already did last year.
Sure, some people might have only gotten the memo this time around, but most probably took care of business previously. This hasn't really presented a new opportunity.
There also seems to be low rate fatigue – people are sick and tired of hearing about how low rates are, especially those who can't refinance for whatever reason or find a home to buy.
As far as purchases are concerned, home sales continue to disappoint, falling short of year-ago levels. The ongoing issue is a lack of inventory, not a lack of appetite.
There are still millions of underwater homeowners out there who aren't moving anytime soon. Nor can they move up without any equity to speak of. Banks are also working through foreclosure backlogs, so those homes remain in limbo as well.
And if existing homeowners can't find homes to purchase, they're not going to list their own homes. This explains the pretty weak purchase loan expectations going forward.
The only real hope for increased volume is looser mortgage guidelines, which are starting to surface here and there.
There's Carrington's 550 minimum FICO for FHA/VA loans and TD Bank's 3% down mortgage, to name just two new innovative loan products.
Banc Home Loans is also offering jumbo loans just one day out of foreclosure with credit scores as low as 660. Stuff like this might be the only way to boost volume nowadays, even with rates an endless bargain.
The MBA Upped Its Origination Forecast Slightly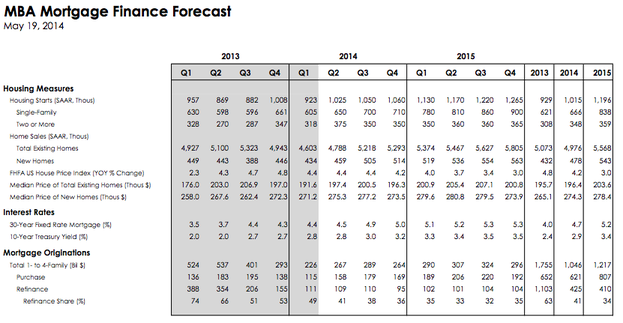 On Monday, the MBA also provided a monthly mortgage finance forecast update. And the numbers did increase slightly, though not by any extraordinary amount.
Previously, they expected purchase originations to be $646 billion and refinance originations to be $419 billion this year.
Those numbers were revised to $621 billion and $425 billion, respectively. So purchases are expected to be even weaker than they already are, and refis may get a small boost.
For the record, the MBA still predicts mortgage rates rising to 5% by year-end, despite their current depressed levels.
Maybe they see recent declines as a fluke, and once economic and geopolitical concerns quiet down again, rates will continue their upward path. I suppose that's the safer bet.
By the way, if their 2014 origination forecast is correct, it will be the lowest annual total since 2000. Yikes.