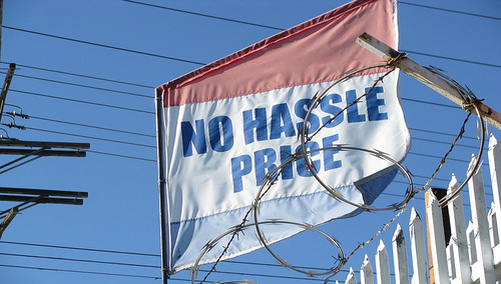 Just days after details of the Treasury's streamlined short sale program were revealed, several leading appraiser groups have criticized the proposal.
The issue involves how short sale properties would be valued under the program, relying on broker price opinions (BPOs) carried out by real estate agents rather than standard appraisals completed by licensed appraisers.
Essentially, a BPO is more associated with what a home would sell for, while an appraisal uses a more thorough valuation approach.
Banks and mortgage lenders would use the BPOs to determine the value of a home and the corresponding minimum offer to accept.
The homeowner supposedly won't know the value, but if an offer comes in that meets or exceeds it, the bank or lender must take it.
Of course, this setup is ripe for fraud, and law enforcement officials have already highlighted fraud involving short sales as a new form of mortgage fraud.
A new trend referred to as "property flopping" has emerged, where a property is artificially appraised below its actual market value (using a BPO) and sold to a related party of the real estate agent, who then sells the property at its real market value for a quick profit.
"We strongly believe continuing to allow 'broker price opinions' (BPOs) in the property valuation component will not adequately protect the public interest (consumer, borrowers, etc.) or the interests of the various parties to the loan (lenders, loan servicers, etc.) and is likely to exacerbate mortgage fraud," the appraiser organizations wrote in a letter to Treasury Secretary Tim Geithner.
"We urge the Department to reestablish independence in the valuation process to protect the safety and soundness of financial institutions, improve transparency, and safeguard the public trust."
The appraisers have urged the Treasury to revise the Home Affordable Foreclosure Alternatives guidelines to prohibit the use of BPOs when short sales are involved.
But BPOs tend to be cheaper than full scale appraisals, and less time consuming, which seems to be the aim of the program.
The letter was signed by the Appraisal Institute, the American Society of Appraisers, the American Society of Farm Managers and Rural Appraisers, and the National Association of Independent Fee Appraisers, representing more than 35,000 real estate appraisers.