A new startup by the name of "BoardRE" hopes to change the real estate game when it comes to all-cash home buyers and the rest of us.
Even if you don't have the necessary funds, you can still present yourself as an all-cash buyer to a home seller with BoardRE and ideally take advantage of the many benefits that go with it.
How BoardRE Works
Board buys a property on your behalf using all cash
Then provides you with a mortgage via their finance department
You are underwritten for the loan prior to an offer being submitted
To ensure you'll qualify for the home purchase if accepted by the seller
The way BoardRe (also known simply as Board) works is relatively simple.
Similar to obtaining a mortgage, you submit a loan application to Board, which then underwrites the loan to determine a maximum purchase price.
Assuming your income, assets, and credit all pass muster, you'll get approved for a certain cash offer.
This is similar to the Reali Cash Offer, though that company also acts as your real estate agent.
The Board Offer Letter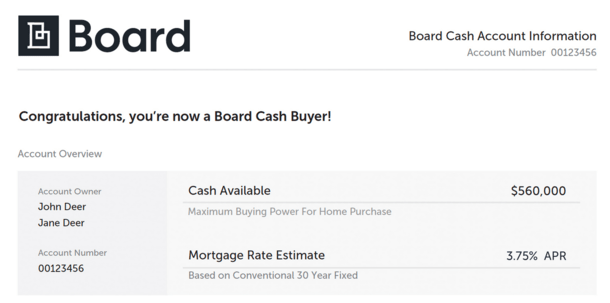 As seen in the screenshot above, the pre-approval letter will detail the cash available, along with the proposed mortgage rate you'll qualify for once you take out a mortgage.
They say it typically takes less than two hours (and always the same day if during normal business hours) to approve an offer once you find a home.
This is accomplished via automated underwriting and by pulling a desktop appraisal to quickly determine if the offer price fits with the market value.
Board can even place a cash offer the same day via express underwriting if submitted by 3pm local time and you provide all necessary documentation.
The company will then make an offer for your desired property, and if accepted, will purchase the property on your behalf.
At that time, you will need to wire the earnest money deposit to an escrow company that matches the amount of funds Board provided to the seller.
The home is then "reserved for you" until you close your mortgage with Board, which they estimate will take two weeks or less.
In terms of mortgage choice, the company does not offer FHA loans, but they do have down payment options as low as 5%.
Once the mortgage is closed, you'll own the home and make mortgage payments each month like you would in a typical mortgage transaction.
How Much Does BoardRE Cost?
They don't charge a fee to use their service
Instead they make money as your mortgage lender
So you must use them to obtain a home loan on the purchase
Board says they offer competitive mortgage rates from commission-free loan officers
You might assume there's a fee to use their service seeing that it could provide some advantages over purchasing a home with a mortgage.
However, Board doesn't charge home buyers, sellers, or real estate agents any additional fees.
Instead, the company makes money as the mortgage lender and generates revenue via that channel.
To that end, you'll obviously want to make sure their mortgage rates and loan programs are attractive.
They say their rates are competitive because their loan officers aren't commission-based.
Either way, you can always refinance your mortgage in the future assuming you qualify.
Speaking of, their "DropRate program" constantly monitors interest rates and notifies you if there's an opportunity to save money or build equity faster.
Back to those potential pros – all-cash offers may boost the odds of getting your bid accepted over a prospective buyer who must use a mortgage.
An additional benefit could be securing the property for less than a borrower relying upon a mortgage since the seller might be more willing to accept less for a more reliable close.
Board cites industry data via Redfin that cash buyers are apparently 97% more likely to win the home if there's a multiple bid situation versus buyers using a mortgage.
They can also close 10 times faster than the buyers needing a mortgage to close.
Perhaps even sweeter, it's possible to get a discount on the purchase price if the underlying property is less competitive.
For example, a home buyer using Board to make an all-cash bid on a property that has been sitting could maybe lowball and get their offer accepted.
What to Watch Out For
An all-cash offer may not always be advantageous
Some real estate markets are more competitive than others
Also note that it's possible to lose your earnest money if you don't close the transaction
Board could save you time and money if all goes right
While this sounds like a good service, one could question the necessity in a softening real estate market where bidding wars are becoming less common.
Obviously, this varies by market, with some hot spots still quite competitive, and maybe always in demand.
But other regions of the country may not have the need for all-cash offers.
Board does recommend that you use a real estate agent who can negotiate on your behalf, and navigate things like the home inspection.
Speaking of, you'll be required to pay for an inspection and sign off on it before Board purchases the property.
It's always important to take the home inspection very seriously, whether you're buying directly or a company like Board is buying on your behalf.
Some other issues that may arise include the appraisal coming in low, which could jeopardize financing, or experiencing some adverse event like job loss along the way.
If either happen, Board will try to save the deal, but if they're unable to, they will refund the earnest money and sell the home on the open market at their expense.
But if you simply decide not to go through with the purchase after Board buys the home, you will lose your earnest money deposit and could even be responsible for additional costs associated with the resale of the property.
In other words, make sure you actually want to purchase the property in question!
All in all, it's certainly an interesting idea that could make the whole process of buying and financing a home a lot easier, faster, and potentially cheaper too.
Board is backed by Y Combinator, Global Founders Capital, DN Capital, Ilya Kirnos, and Peter Thiel's 1517 Fund.
Update: In early October 20202, BoardRE changed its name to "Accept.inc." The name change is an effort to align with the company's mission of giving home buyers a better chance at having their offers accepted.
Other companies in the all-cash offer space include HomeLight, Reali, and UpEquity.