A newly named company called Noah (formerly Patch Homes) lets you access up to $300,000 of your home equity in exchange for future home price appreciation.
The arrangement requires no monthly payments or interest, and all they ask is that you pay them back in 10 years.
They refer to it as a "home equity sharing product," which actually could make a lot of sense during a crisis such as the coronavirus (COVID-19) epidemic currently ravaging the world.
It allows homeowners to access cash without being burdened with payments, something that may come in handy if a borrower were temporarily laid off or experienced a similar loss of income.
How Noah Works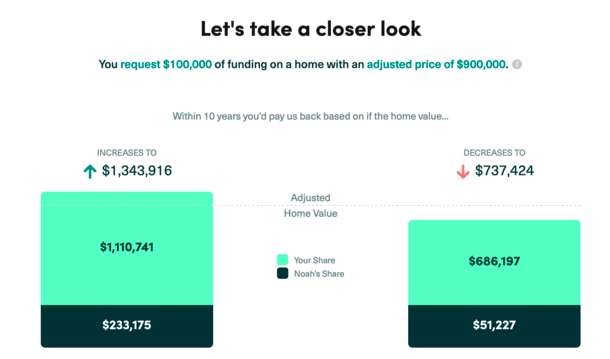 Noah's home equity sharing product allows homeowners to tap into their equity without having to execute a cash out refinance or apply for a HELOC or home equity loan.
In doing so, no monthly payments or interest are due. However, in exchange for access to that cash, you must part with a percentage of your home price appreciation, which can range between 15% and 40%.
So while you get the money today, you get less in the future when you sell your home, similar to how a reverse mortgage works.
If the property happens to decrease in value during the 10-year term, Noah will also share in the losses, assuming you don't exit the contract within the first three years.
In the example on their website (pictured above), a property with an adjusted price of $900,000 rises to $1,343,916 after a decade.
Noah would get $233,175 in this scenario, with $100,000 being their initial investment, and $133,175 being their profit via appreciation. It appears to be a 15% share in this example.
If the home falls in value, Noah would only receive $51,227 of its original $100,000 investment back.
Both these scenarios assume the homeowner exits the contract on the expiration date of a 10-year term.
Their business model is similar to EquityKey, Point, and Unison Home, all of which give homeowners access to funds without payments in exchange for future profits.
How You Pay Noah Back
You can use proceeds from a cash out refinance
You can sell your home
You can pay it off with a home equity loan, HELOC, or reverse mortgage
Or simply pay them back with your own funds on hand
As noted, Noah makes money by receiving a portion of your home price appreciation.
This is based on either the sales price if you sell, or the appraised value when you choose to buy them out.
They say the majority of their homeowner partners share between 15% to 40% of future appreciation, with no cap or floor amount.
My assumption is the more you borrow, the more appreciation you must share.
You'll need to pay that percentage plus the original amount borrowed to satisfy your exit.
In order to pay Noah back, you've got four main options.
You can refinance your mortgage with a traditional lender and use the proceeds to pay it off.
You can take out a home-equity loan, HELOC, or a reverse mortgage, and use the funds to pay Noah.
You can sell your home, and have Noah paid directly via escrow with the proceeds.
Or, you can simply use your cash savings on hand to pay them back.
It's also possible to refinance your Noah agreement into a new Noah agreement.
Applying with Noah
Get an estimate by entering your home address and some basic details
Complete an online application and get your credit pulled
Schedule a home appraisal to determine value
Sign your documents and receive your funds
First, you request an estimate by entering your property address into their online form.
It will pull your home value automatically and ask you some basic questions, such as what you currently owe, along with your credit score.
Assuming you want to proceed, you enter basic contact information and then submit a full application online.
This process will be similar to applying for a mortgage, requiring a credit check and the uploading of relevant income/asset documentation.
Next, an appraiser will visit your home to provide an independent assessment of its value.
However, Noah only uses that valuation as a baseline – they then adjust for "appraisal variance, lack of liquidity, and market risk."
In other words, the appraiser may say the home is worth $500,000, but Noah could adjust it down to $450,000 when all is said is done.
They will then make a final funding offer that outlines how much you'll receive and the percentage of future appreciation you'll share with Noah.
Once you sign closing documents with a notary, they'll transfer the funds within a few days. Noah estimates that the process can take as little as 15 days.
Noah Fees
It's important to note that Noah does charge fees, despite not charging interest or requiring monthly payments.
Their servicing fee, which is basically a loan origination fee, is $2,000 or 3% of the financing amount, whichever is higher. It covers the processing and underwriting of the loan.
Additionally, third-party fees also apply, including the following:
• Title and escrow: ranges between $520 and $750
• Title insurance: $400
• Home appraisal: $299
• Affordable housing fees: between $150 and $225
• Notary fee: $100
Note: For a limited time (now until May 1st, 2020), they are offering all new customers a $1,000 discount on fees at closing.
Who Is Eligible for Noah?
Most property types including single-family homes, condos, and townhouses
Primary, second homes, and investment properties
Must have a minimum 600 FICO score and clean credit history
Property must be valued between $300,000 and $3 million in an eligible area
Homeowners typically take out 5% to 20% of their property value
Financing amount is capped at a maximum of 80% LTV
Not everyone is eligible for Noah, just like not everyone qualifies for a mortgage. There are many different requirements that you must meet, including property and borrower-specific items.
First off, you need a minimum FICO score of 600, which is below subprime. They use the average of the three credit bureaus, just like traditional mortgage lenders do.
Next, you can't have multiple 60-day or 90-day delinquencies on your credit report, nor can you be in active bankruptcy or foreclosure proceedings.
You'll also need sufficient income/savings to cover current debt obligations.
They allow a very flexible 60% max DTI, but anything above that will require that you use Noah proceeds to pay down debt.
With regard to the property itself, it must be valued between $300,000 and $3 million, and you must have at least 25% equity at the time of application.
It can be a single-family home or a condo/townhouse. They also consider tenancy in common (TICs) units and co-ops on a case-by-case basis.
Noah is available on primary residences, second homes, and investment properties.
You cannot have more than three liens on the property, but if you do, Noah proceeds can be used to pay them down/off.
Any private mortgages or loans from private money lenders must be paid off if you partner with Noah.
Lastly, your property should not be involved in any sort of major construction beyond minor home repairs or renovations, and it must be located in one of their service areas.
Where Is Noah Available?
At the moment, Noah isn't available nationwide, but there are plans to expand across the country later this year, including major East Coast cities.
Currently, Noah is available in 20 metro areas across five states, including:
– Boulder
– Colorado Springs
– Denver
– Fort Collins
– Los Angeles
– Ogden
– Portland
– Provo
– Salt Lake City
– San Diego
– San Francisco
– San Luis Obispo
– San Jose
– Santa Barbara
– Santa Cruz
– Santa Rosa
– Seattle
– Tacoma
– Vancouver (WA)
– West Riverside
Noah's Homeowner Protection Program
As a Noah homeowner partner, you also have access to "protective advances" via their Homeowner Protection Program.
If you run into financial difficulty, they are able to provide additional funds for things like emergency repairs, or simply to make mortgage and/or property tax payments.
They can provide up to $10,000 based on your property profile, and the term matches your Noah contract. It takes 3-5 days to receive your funds.
The difference here is interest does accrue on the amount borrowed (unclear on APR, it may vary), and there is a processing fee of $500.
While you can pay it back at any time to limit interest charges, you must pay it off in full, no partial payments are accepted.
Note: Noah is waiving all administrative/processing fees for the HPP until May 1st, 2020, and all protective advances offered via the program until May 1st will be interest-free for the first 90 days.
Is Noah a Good Option for Homeowners?
May be a good alternative to a home equity line/loan or reverse mortgage
Or for someone who has trouble qualifying for a traditional mortgage
Just be sure to consider the upfront fees and how much appreciation they ask for in exchange
Other companies offer similar arrangements so still comparison shop!
Like anything else, it really depends on your unique financial situation and your needs.
Those with limited assets in need of cash, or those who have trouble qualifying for a traditional mortgage or home equity product might be a good fit.
The same goes for those on a fixed income who want to tap into their equity, but don't want a reverse mortgage.
While you could part with quite a bit of your home price appreciation in the future, you aren't on the hook for monthly payments. And the cash could come in handy if you're in a pinch.
The current coronavirus outbreak and related economic disruption is a perfect example of how this type of arrangement could benefit homeowners in need of money when an unexpected emergency strikes.
Noah also shares in some of the downside risk, assuming home prices fall during the 10-year term (and you buy them out after the first 3 years).
Tip: There are now several companies offering these types of partnerships, so if you do go down this road, be sure to compare costs and offers to determine who has the best deal.
(photo: Marco Verch)