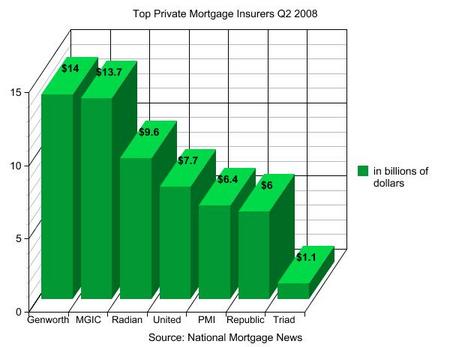 National Mortgage News compiled a list of the top private mortgage insurers during the second quarter of 2008, which I threw into graph form above.
Genworth Financial, who NMN considers one of the more conservative of the bunch, led the way with $14 billion in new insurance written during the quarter, up seven percent from the same period a year earlier.
The Raleigh, NC-based company now controls 23.93 percent of the PMI market, up more than 10 percent from a year ago, mainly because everybody else saw business slow significantly.
MGIC came in a close second with $13.7 billion in new insurance written, down 27 percent from the $18.8 billion written during the second quarter of 2007.
Despite the annual decline, their market share actually increased 4.39 percent to 23.31 percent.
Radian Guaranty grabbed the third spot with $9.6 billion in new insurance written, a 43 percent drop from the $16.9 billion written a year ago.
However, it was enough to control 16.44 percent of the market, just about half a percentage point less than what it held a year ago.
United Guaranty wrote $7.7 billion during the quarter, followed by PMI Group with $6.4 billion, Republic Mortgage Co. with $6 billion, and Triad Guaranty (went into runoff) with a feeble $1.1 billion.
During the quarter, a total of $58.6 billion in new private mortgage insurance was written, down 41 percent from the $99.4 billion written a year earlier.
PMI is required when the loan to value ratio exceeds 80 percent to protect mortgage lenders from default.